27.07.2016
Video and SEO
Did not know that Video SEO existed? Heard of it, but thought it was not important?
Do not miss out on it; it is of enormous value.
If you have not heard already, Google is like a "phone company". You get huge benefits by taking advantage of their "bundle".
No, I am not talking about Google Voice. I am referring to the SERP benefits of using Google+ and YouTube.
You should read on if you want motivation to put some sound, creative energy into improving your rankings through video.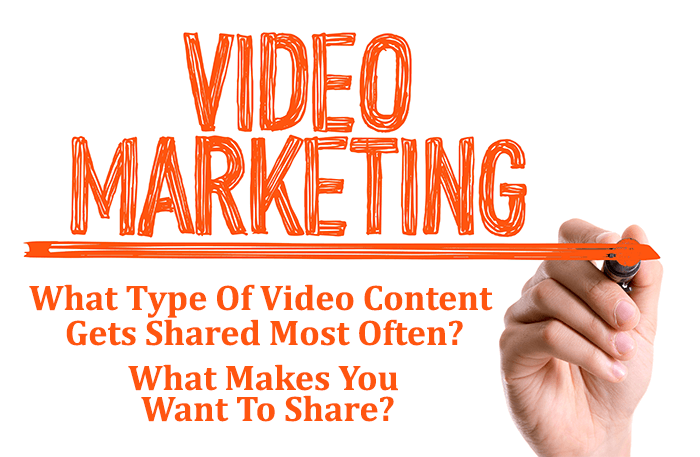 Video and SEO – it is Valuable
There are plenty more than five reasons why Video SEO is precious, but it is simple enough that all you need to touch on are these five high points to know that it is worthwhile.
Know that video is valuable in its right, and it will become a natural part of your content for these good reasons!
YouTube & Google Symbiosis
The first reason it is valuable is the one I mentioned already.
Did you spot it?
Google gives a boost in rankings to sites that utilize YouTube as their video host!
That in itself should make you jump for joy, as any increase on Google is a good thing.
High Quality, Fresh Content
Google and the SERPs LOVE video.
They see the video as the future of content.
Know what I think about that?
They are right.
When you think of a cutting edge website, I am sure embedded video comes to mind.
Google knows that this is the direction the web is going in and rewards anyone who is ahead of the curve.
Even if you are only repurposing text content you have already shared, it is still fresh content to Google as it is delivered in a different way.
Your site viewers will thank you for making the information available in a different way.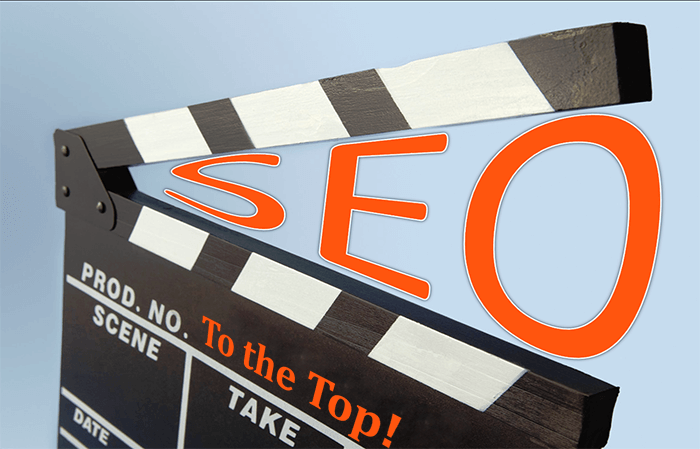 So, you want to make some video content for your website?
Great idea! There are tons of reasons why video is a valuable content type to include in your site.
I am here today to help make you aware of what types of videos get the most shares and views!
When I say "types," I am not talking about "funny" or "engaging" – those are more like attributes than they are types.
I mean something more like, what is the nature of the video content: is it an interview? A news release? A commercial?
What Type Of Video Content Gets Shared Most Often?
Although any video content, if done well, can get a lot of shares, there are a few types of content that people naturally share.
The unifying factor in all of these video types is that they leave the viewer with a desire to share the video with their friends.
Simple, right?
What Makes You Want To Share?
I know I can say for myself that when I come across:
something I had never known or seen before,
something that touches me deeply,
or something that is exclusive and appeals to my tastes, that is when I am eager to share it.
I will be much more inclined to share, as well, if I am asked nicely to do so at the end of a video that touches on one of these points!
Keep these three factors in mind when producing a video with a target of getting it shared!
Impactful Testimonials
Impactful testimonials fall under the "touches me deeply" attribute I raised above regarding what makes me want to share.
Sometimes I am wary (actually all the time) when buying a product or coming across a new brand.
Here is one testimonial I love, though it is not tied to any brand, product or service. It is a great testimony to share for yoga or pilates or even any health related field.
When I see someone who earnestly talks about the product or service they found, and, importantly, they speak of the high amount of value it brought to their life. I will not only be eager and ready to buy their products, but I will also share the testimonial I found.
Funny Videos, Controversial Ones, And Ones That Make You Say WOW
OK, so these are easily shared, and easily explained.
When something just WOWs me or gives me a serious chuckle – I am talking, nearly embarrassing myself by laughing so loudly,  I have no problem sharing.
Twitter, Facebook, you name it, I am going to spread it around.
A high-production-value example of these are the DC Shoes Skateboarding ads, while they can even be done well on low production value like in the Subaru Outback ad or with Blendtec's "Will It Blend?" series!
As much as we all ought to be ashamed to admit it, we live in a culture that glorifies gossip and controversy.
You asked what gets shared the most. I am just reminding you that this plays a significant role.
Use responsibly!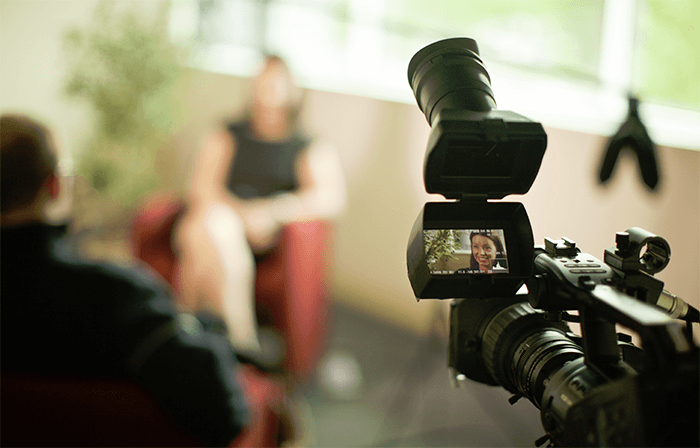 Big Name Interviews With High-Value Information
Of course, something along these lines is going to get more niche shares than anything, but in my eyes, these are the most valuable.
For instance, let's say that you sell high priced, collectible sneakers online.
If you produce interviews from a sneaker event with some of the biggest names in the collectible sneaker world, your audience is going to eat them up!
Not only will they love the videos and watch them all when they have the chance, but they will also share the videos with their sneaker loving friends, who will, in turn, share them as well.
When your branding is all over these videos, and the interviews are well done, this is a very powerful asset.
Highly Shared Video Content, For You!
Contact me and I will be happy to help you figure out just what makes the most sense for your web presence, especially if you want some help choosing video content that will get lots of shares for your site or brand!
Also, I can assist you with the creation the video content for your website. I am certified video editor and colorist. I do video editing in Adobe Premiere Pro and fantastic color grading in Adobe SpeedGrade.
As example, please, see my one-minute introduction video for Upwork:
And here are my certificates
Certificate #: Z6Z7LV57 is to certify that Grigoriy Ichshenko from 6th April to 18th May 2016 attended and successfully completed Editing Techniques Course at the Profile Virtual School and received appropriate skills as per the training program.
Certificate #: 6JZLFLGL is to certify that Grigoriy Ichshenko from 10th to 28th May 2016 attended and successfully completed Adobe Premiere Pro Advanced Training Course at the Profile Virtual School and received appropriate skills as per the training program.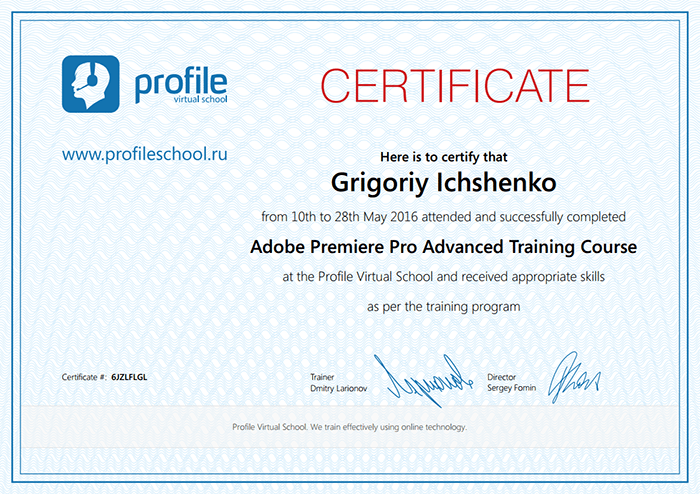 Certificate #: Q3Q6GJ3G is to certify that Grigoriy Ichshenko from 4th to 22nd April 2016 attended and successfully completed Grading with Adobe SpeedGrade Course at the Profile Virtual School and received appropriate skills as per the training program.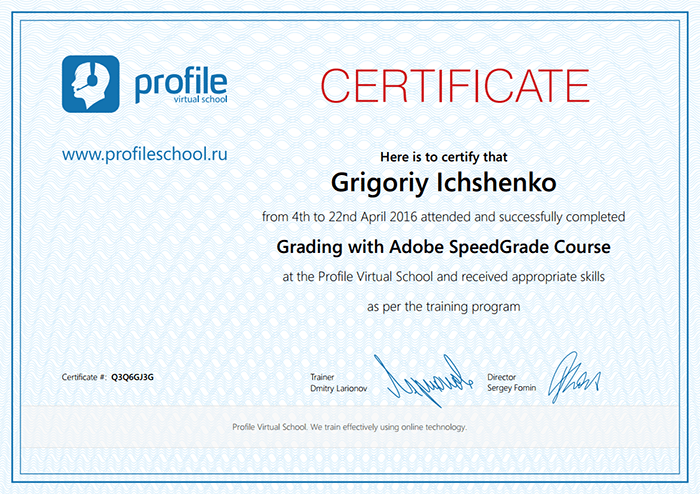 Contact me at any time. I will be glad to answer any questions, my phone: (403) 308-5949 Greg