Frequently Asked Questions of SEO
To-The-TOP: SEO can be complicated and confusing, so here is some additional information to better serve you.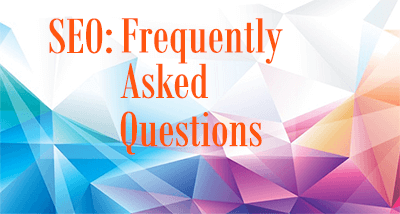 How fast will TO-THE-TOP get my business on the first page?
Because search engines are constantly changing their methods and algorithms, it is not feasible to give an exact estimate of how fast I can get you to the top. It is important to understand that SEO is not an overnight process.  If you look at my track record, though, most clients will see significant ranking improvement within 2 to 6 weeks. Of course, I do not stop once your page is ranked. I always use the latest methods and strategies to keep your page ranked high.
What does TO-THE-TOP do get my page ranked?
In SEO I have over seven years of real experience getting the results you want. I own dozens of websites that I use to test the latest strategies, so I always know what works. With hundreds of ranked pages, I have the skills and the tools to get your page where you want it. I anticipate and update my techniques as soon as Google's algorithms change. Through link building, on-page optimization, and loads of industry secrets, I get your page on top.
Why is TO-THE-TOP the best choice for me?
I am experienced SEO Expert and I know the industry. I can adjust my methods and constantly work to get your page ranked high. I also offer competitive prices and loads of SEO services. Client satisfaction is my top goal, and I never stop working to get you the best page rank possible. Even if your page reaches number one, I keep working for you.
Why doesn't TO-THE-TOP offer a flat rate for SEO services?
There are many factors to consider when determining SEO prices, including the difficulty of your keywords, your current site optimization, and your target levels. The price depends on what you need. No respectable SEO company can offer a flat rate. SEO is a highly individualized process, and that is why I invest time consulting with your site and your needs before setting any prices. And do not forget that I offer other services besides standard SEO.
Why does TO-THE-TOP require a monthly contract?
SEO is an on-going process. It is essential to establish a monthly contract. Getting your page ranked initially does not guarantee a high ranking the next day, or even the next month. I have to adjust constantly my methods to maintain your high rankings. To keep you on top, I have to keep your business. Do not forget about my SEO website audit and consultations, and I never charge any setup fees for standard SEO services.
How will I know that your services are actually working?
I send weekly updates with detailed graphs about what I am doing and how these processes are improving your rankings. Of course, once you see your site on the top of the search engines, you will be getting the phone calls and clients to prove it is working.
What happens if I quit using SEO Services TO-THE-TOP?
If you ever decide to discontinue my SEO services, you are free to do so as long as your contract has expired. I offer plans by 3, 6, or 12-month contracts. If you stop using my services after your contract period, you will keep all of the work and page rankings I established. However, page rankings are a dynamic thing. Without SEO services, you will notice a drop in your rankings over time. That could happen as quickly as the next day. As Google changes its methods and other companies seek SEO services, your site will not remain competitive in the market.
Still, have questions?
Great. I am always here to provide you with great customer service. Contact me for any additional information. I would love to start the process to getting your page ranked today.